Home » Prince Discography » Prince Albums » C-Note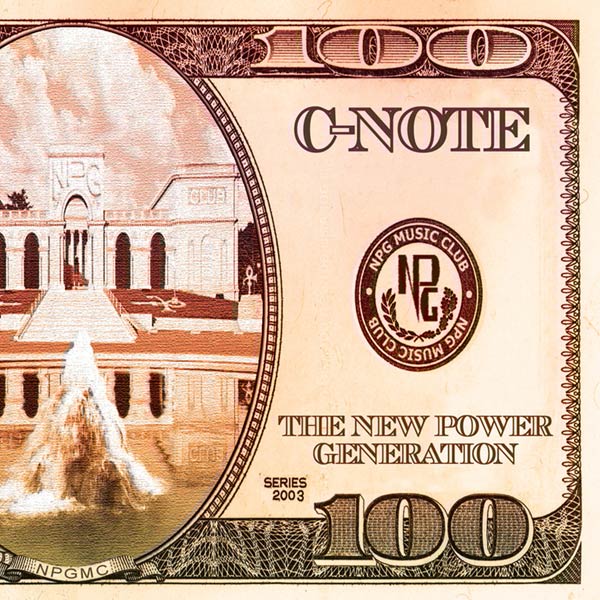 C-Note
© 2004, NPG Records
BUY ON AMAZON
Review (2.0 / 5)
Prince Biography
Prince Albums
C-Note
NPG Records
The best Prince song you've never heard.
Live recordings from the One Nite Alone… Tour during the pre-concert soundchecks to shows performed between 25 October to 28 November 2002. C-Note was released as five MP3s from Prince's official website npgmusicclub.com, individually available, on 3 January 2003 and later as a downloadable album on 29 March 2004 – it was therefore ineligible to chart as a conventional retail album.
The first four tracks are instrumental soundchecks from the tour and named after the cities where the performance was recorded. The original version of the first track Copenhagen contains a 3-minute and 20-second homage to Miles Davis but was edited out in the in the full C-Note release. The fifth track is the only officially released recording of the fan favorite out take Empty Room, a song that dates from 1985. Whilst no studio recording of Empty Room has ever been released, the track was intended to be released on the aborted Revolution album Roadhouse Garden. The version on C-Note is recorded live and during the soundcheck ahead of the show – at Falconer Salenin in Copenhagen on 25 October 2002.
The remaining tracks were recorded in Japan: Nagoya (29 November 2002 at the ICC: Century Hall; Osaka (28 November 2002, the Osaka-Jo Hall), and; Tokyo (18 November 2002, the Nippon Budokan). Together the first letter of each of the five tracks spell C-NOTE – the nickname of an American $100 bill – the fee for a lifetime subscription to the NPG Music Club.
Performers
Vocals/Guitar

Prince

Drums

John Blackwell

Keyboards

Renato Neto

Bass Guitar

Rhonda Smith

Trombone

Greg Boyer

Saxophone

Maceo Parker
Candy Dulfer
Data
Producer

Prince

Label

NPG Records

Distribution

NPG Records

Cover/Design

Sam Jennings

Released

16 years, 10 months ago on 29 March 2004

Running Time

34:03

US Chart Peak

Ineligible

UK Chart Peak

Ineligible

Orig. Format
Tracklist
Copenhagen

(10:07)

Nagoya

(5:09)

Osaka

(5:53)

Tokyo

(8:53)

Empty Room

(4:01)
C-Note produced no singles.
C-Note

– review

It was at this point in 2003 which marked a crossroads, where Prince almost lost his way. It was a strange moment in his career. An era fans want to remember both fondly and not at all in equal measures: the One Nite Alone Tour was probably his best, but his then lackluster jazz fizzed offerings Xpectation and N.E.W.S. are the worst pages in Prince's discography. It was this stark contrast that seemed to reveal Prince's inner demons, where on one hand in concert he was growing and heading into deeper more meaningful musical experience but in the studio his talent was regressing. Prince was clearly at odds with himself, where on one hand fervently believing music should be artful if it is to be done properly. And was prepared to make his fans suffer for this art like it or not. C-Note was taken from four sound checks during the tour, which will make future listeners wonder why the ONA tour became the fabled experience fans still revere. But for this music the fans were not ready, they sought in Prince more Andy Warhol than Thomas Gainsborough. It was a fact even Prince could no longer ignore and on C-Note slotted in the classic Empty Room which will be your only reason for finding and playing this album again and again. Let there be no doubt he would see the light and hurriedly follow up with Musicology in 2004. There is lesson to be learned from that because having reinvented himself and kept his music commercial Prince has not looked back since.

C-Note is rated 2.0 out of 5 by Goldies Parade.
© Goldies Parade, 1998 – 2021 | Privacy