Home » Prince Discography » Prince Albums » Xpectation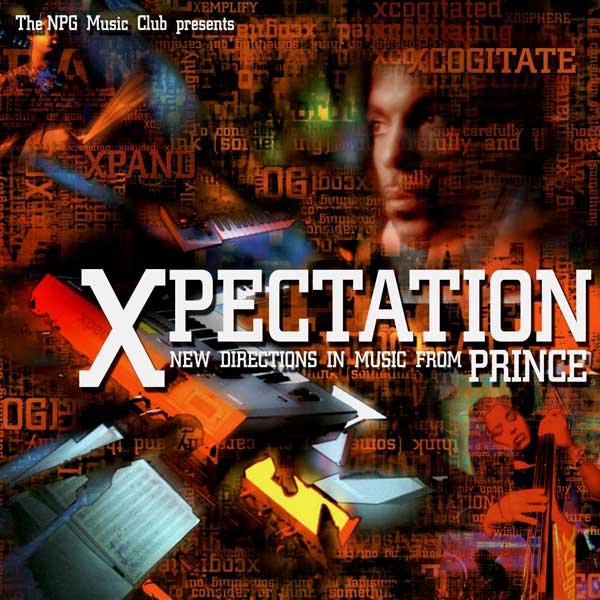 Xpectation
© 2003, NPG Records
Review (2.5 / 5)
Prince Biography
Prince Albums
Xpectation
NPG Records
"New Directions In Music From Prince"
You must surrender your expectation.
Xpectation is an instrumental album recorded at Paisley Park Studios in the Autumn of 2001 and was originally intended to be named after and include the title track Xenophobia. Xpectation was eventually released in 2003 as a collection of nine MP3s offered for download from Prince's official website npgmusicclub.com, as a New Year's Day gift to the club membership and was thus never commercially available either digitally or physically.
The album comprises of tracks all named starting with the letter X. The original title track Xenophobia was removed from the final configuration since it had already appeared as a live version included in the track listing of One Nite Alone… Live!, released the previous year as it was performed frequently during the One Nite Alone… Tour. As the subheading suggests, Xpectation explores a new direction in music, inspired by the death of Prince's father, John L. Nelson on 25 August 2001, the album features contributions from violinist Vanessa Mae. This direction, is considered by many Prince fans the least accessible album in his catalogue, and yearned for his output to return to more familiar form.
Cover story
Because the album was digitally distributed, its cover art was made available to download and print. Prince's brief to the designer, Sam Jennings, was "Make it look like jazz", and concept he created was to combine words with images.
Performers
Keyboards/Guitar

Prince

Drums

John Blackwell

Bass Guitar

Rhonda Smith

Saxophone

Candy Dulpher

Violin

Vanessa Mae
Data
Production

Prince

Label

NPG Records

Distribution

NPG Records

Cover/Design

Sam Jennings

Released

18 years, 8 months ago on 1 January 2003

Running Time

40:53

US Chart Peak

Ineligible

UK Chart Peak

Ineligible

Prince Album

#26

Orig. Format
Tracklist
Xhalation

(2:02)

Xcogtigate

(3:33)

Xemplify

(5:52)

Xpectation

(4:00)

Xotica

(3:04)

Xogenous

(4:11)

Xpand

(6:10)

Xosphere

(3:33)

Xpedition

(8:23)
Singles from Xpectation
Xpectation produced no singles.
Xpectation

– review

For the first time as a fan I felt Prince embark on a musical trajectory I had no wish to accompany him on. Having felt him moving too far down the road of independence, self-indulgent, path of artistry, detachment. Prince was not only isolating himself but his fans, but I later realised it was cool to not blindly follow him down every path, that him like me are individuals at the end of the day. But even Prince was not convinced to put this music to CD. The 9-MP3s that make up Xpectation forms of (and making up) nine tongue twisters that begin with 'X'. Indeed, it was never worthy for CD, only put out in digital format from his NPG Music Club website. Prince proves his musical fallibility after all and Xpectation is unfortunately exhibit A. Its saving grace Xenophobia was removed from the album as it had been released as a live version on One Nite Alone… Live!, an odd decision given it had traction and woudl have been the album's best track, an honour which is instead shared by Xcogtigate and Xotica. It is strange to go from here to The Rainbow Children, take out Mae's jarring violin and it's quite a catchy Madhouse album, my case in point is the cheery Xemplify. Listen to that then compare against the title track or Xotica and we'll both agree which is the weaker. As it later turned out Prince got the taste for experimental music out of his system within a couple of years but all it achieved was a collection more worthy for after dinner ambiance than a showcase of Prince's vast talent. Is this the really same guy who wrote Darling Nikki? Needless to say, it would be wrong to suggest the music is uninspired, yet it provides too few footholds to inspire the listener. This is an album to buy to own to complete the collection, not to buy to love. Let's be clear, Xpectation has been given a fair run, it took a few listens. The late and outstandigly great John Blackwell is the album's shining performer – exhibits Xogenous and Xpedition – he is without a pause Prince's best drummer. Xpand has some nasty moments – in a good way, however. The album ends with some fire, Xpedition, proving had this been a Madhouse project it would have scored higher. Prince's releases of 2003 reside as strangers in his musical canon, marking his 'skip-able' year – every artist has one.

Xpectation is rated 2.5 out of 5 by Goldies Parade.
© Goldies Parade, 1998 – 2021 | Privacy