Home » Prince Discography » Prince Albums » The Rainbow Children
The Rainbow Children
© 2001, Redline Entertainment Inc.
BUY ON AMAZON
BUY REISSUE
Singles
Review (4.5 / 5)
Prince Biography
Prince Albums
The Rainbow Children
Redline Entertainment Inc.
You have to do the work. That's what independence is.
Originally released as a download to fanclub members from npgmusicclub.com on 16 October 2001, The Rainbow Children received a full commercial distribution via the independent label Redline Entertainment on 20 November that year. It thus became Prince's first album released under an independent label. The Rainbow Children was reissued by Sony Legacy on 29 May 2020.
The Rainbow Children is essentially a concept album and in result represents Prince's most diverse work. It explores several and complex themes, such as spiritualism and racism, and although it is critically acclaimed The Rainbow Children sold only 158,000 units. The core musical theme of the album is a fusion of jazz/funk and in result it is a quite inaccessible edition in Prince's canon, albeit not devout followers of his music. It arguably showcases Prince at his creative and musical peak, with its musicality with a live band rather than individually recorded, the overall sound is vibrant, live and spellbinding. The recording took place at Paisley Park Studios throughout 2001. The Rainbow Children was released six months after its single, The Work, Part I and peaked on Billboard charts at 109, but is notable in that it is Prince's first album credited under his birth name, since previously renaming himself The Artist Formally Known As Prince (Prince love symbol).
Cover story
The far left edge of album's cover shows Prince stood holding a painting by C'Babi Bayoc, titled The Reine Keis Quintet. The artist's name is an acronym for Creative Black Artist Battling Ignorance and Blessed African Youth of Creativity. He worked as a caricature artist at Six Flags Over St. Louis. The original painting remains on display at Paisley Park.
Performers
All Instruments

Prince

Drums

John Blackwell

Bass Guitar

Larry Graham The Work Pt. 1 and Last December

Saxophone

Najee

Hornz

The Hornheadz
Data
Production

Prince

Label

NPG Records

Distribution

Redline Entertainment Inc.

Cover/Design

C'Babi Bayoc and Jeremy Gavin

Released

19 years, 5 months ago on 20 November 2001

Reissued

29 May 2020

Running Time

68:49

US Chart Peak

109

UK Chart Peak

Not charted

Prince Album

#24

Orig. Formats
Tracklist
Rainbow Children

[feat. Milenia] (10:02)

Muse 2 The Pharaoh

(4:21)

Digital Garden

(4:06)

The Work Part 1

[feat. Milenia] (4:27) 1

Everywhere

[feat. Milenia] (2:54)

The Sensual Ever After

(2:57)

Mellow

(4:23)

1+1+1 Is 3

[feat. Milenia] (5:16)

Deconstruction

[feat. Milenia] (1:59)

Wedding Feast

[feat. Kip Blackshire] (0:53)

She Loves Me 4 Me

(2:49)

Family Name

(8:16)

The Everlasting Now

(8:17)

Last December

[feat. Milenia] (7:57)

Silent hidden track

(0:04)

Silent hidden track

(0:04)

Silent hidden track

(0:04)

Silent hidden track

(0:04)

Silent hidden track

(0:04)

Silent hidden track

(0:04)

Last December [reprise]

(0:38) 2
1 Released as a single.
2 Hidden track (#21).

Singles from The Rainbow Children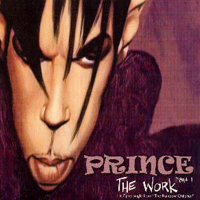 The Work Part 1
NPG Records
Released

6 April 2001

US Chart Peak

Ineligible

UK Chart Peak

Ineligible

Format
The Work Part 1

[feat. Milenia] (3:39)

U Make My Sun Shine

[duet with Angie Stone] (5:52)
Supporting tour
The Rainbow Children

– review

Prince's creative peak (and his first album back again under his birth name). Perhaps The Rainbow Children is also his most inaccessible album to date, and thank god (literally!) that Prince decided to release this in stores rather than side step it as an internet only venture. Subscribers to the NPG Music Club were able to download the album as a single MP3, which as I look back on it now took four days to download the 48mb file through dial-up: this highlighted the biggest flaw of the club – it was too ahead of its time. Anyway, Prince had finally released an album that really did showcase his dexterity. Isn't it sublime when you listen to an album and fall in love with every track. The Rainbow Children is beautiful, funky, yet musically inspiring, it takes music to higher levels in every sense of the word. It does not even take a second listen to grow to like it, you don't know then why you liked it but you do and give it another go at which point its playability takes root. The Rainbow Children is easily one of Prince's all-time best, although probably not to the taste of the casual listener. This is a collection of songs and that could only go together on the same album but are let down by the religious undertones which comes across too sermon like. One could hardly believe this is the man who also wrote Scarlet Pussy and Sexy MF still there are few albums as well crafted as this. Like fine wine Prince improves better over time. The Rainbow Children could well be the album Prince's musical genius found its peak, a fact also underlined with the tour, his best to date. It also demonstrates the fruits of Prince's hard fought musical freedom, for he would never have been allowed to release this under a conventional label. Yet it deftly blends funk, melody, lyrical godliness, with some truly stellar guitar. The title track and Family Name make the album, yet it is so nice to hear Prince being genuinely enjoying music making once again and not using his craft to bicker about the industry that made his name. Prince rediscovers music once again or had the music rediscovered him.

The Rainbow Children is rated 4.5 out of 5 by Goldies Parade.
© Goldies Parade, 1998 – 2021 | Privacy