Home » Prince Discography » Related Artists » What Time Is It?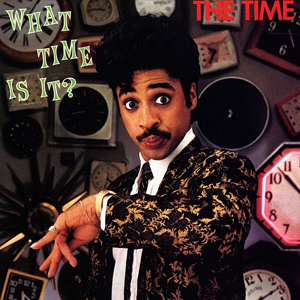 What Time Is It?
© 1982, Warner Bros. Records
BUY ON AMAZON
Review (4.5 / 5)
Prince Biography
Related Artists
What Time Is It?
Warner Bros. Records
Butt, my ass.
Under his deal with Warner Bros., Prince was permitted to form sign bands of his own to that label. Albeit credited to Morris Day and The Time, all the tracks on What Time Is It?, the second album by The Time, were in fact written, and the instruments performed, by Prince – credited as The Starr ★ Company (except for Wild And Loose2 whose lyrics are co-credited to Dez Dickerson and Morris Day). Despite not wanting The Time to perform on the album itself the band was required for the live show and joined Prince as his support act in both the Controversy Tour and Triple Treat Tour.
What Time Is It? is certified Gold by the RIAA, and hit number 26 on Billboard's album charts.
The phone number 777-9311 actually belonged to Prince's bandmate Dez Dickerson. To his chargrin at having receive many calls in result, Dickerson had to change his phone number.
Key Performers
All Instruments

Prince

Vocals / Drums

Morris Day

Keyboards

Dr. Fink
The Time
Vocals

Morris Day

Drums

Jellybean Johnson

Guitar

Jesse Johnson

Bass Guitar

Terry Lewis

Keyboards

Jimmy Jam

Keyboards

Monte Moir
Data
Producer

The Starr ★ Company (Prince) and Morris Day

Label

Warner Bros. Records

Distribution

Warner Bros. Records

Released

38 years, 6 months ago on 25 August 1982

Running Time

38:36

US Chart Peak

26

UK Chart Peak

-

Orig. Formats
Tracklist
Wild And Loose

(7:32) 2

777-9311

(7:57) 1

OnedayI'mgonnabesomebody

(2:27)

The Walk

[feat. Vanity] (9:30) 1

Gigolos Get Lonely Too

(4:40) 1

I Don't Wanna Leave You

(6:30)
1 Released as singles.

What Time Is It?

– review

Whilst Ice Cream Castle may contain The Time's most familiar work, What Time Is It? certainly houses their best. Prince, albeit hiding in plain sight as Jamie Starr, not only wrote most of it he also plays every instrument throughout. What Time Is It? delivers the stalwarts in The Time's all-too brief catalogue, kicking off with Wild And Loose a fantastically indulgent seven minute electro funk opener, which then slides into 777-9311 another 7-minute jam which features arguably Prince's best bass riff laid down on record. And full credit to Jellybean Johnson used to play its hella tricky drum track live in concert. OnedayI'mgonnabesomebody turns up the pace and drives us to the legendary The Walk. Here Morris' gigolo steps to the fore, and speaks that the immortal line "but, my ass" double entendre – clocking nine minutes it's pure bliss. His brilliant arrogant confidence stakes claim as the best character in music. His gigolo's insecurities turn to more reflective tone with this album's best track, the outstanding Gigolos Get Lonely Too which is certainly for me The Time's all-time greatest song. The fun is returned again with I Don't Wanna Leave You, the 4th song in this six-track album to run over six minutes. What Time Is It? is a confident and absolutely solid entry with Prince's first side project – who had nothing to fear keeping his name from this project, this stuff of legend became music's worst kept secret. Hail Prince and long live The Time.

What Time Is It? is rated 4.5 out of 5 by Goldies Parade.
© Goldies Parade, 1998 – 2021 | Privacy