Home » Prince Discography » Books » Prince: The Beautiful Ones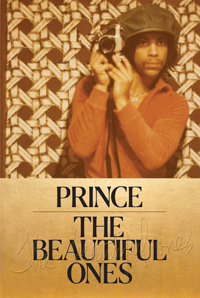 Prince: The Beautiful Ones
Spiegel & Grau (2019)
BUY ON AMAZON
Books
Prince Biography
Discography
Prince: The Beautiful Ones
Prince & Dan Piepenbring
You all still read books, right?
Summoning 200 music reporters and book industry insiders to New York's Manhattan club Avenue, on 19 March 2016, Prince delivered a tantalising and very unanticipated announcement. Standing on the club's balcony, he declared he was working on his memoir: "The good people at Random House have made me an offer that I can't refuse". He continued to work on the manuscript right up until his death on 21 April that year – just one month after this announcement, which took both the music and printed media industries by surprise.
The autobiography, originally intended to cover his life right up until his Super Bowl appearance in 2007, was due for release in the autumn of 2017 and although the work was therefore unfinished at the time of his death, approximately 60 completed pages was found on his personal computer during the inventory of his estate. What he completed recounts his life pre-stardom. The Beautiful Ones is Prince's original working title for the memoir and is reworked into four sections over 288 pages, by editor Dan Piepenbring, chronicling from Prince's own words the birth and rise of the star's early career. It features also never before published photos and scrapbook material, and with one section of the book containing Prince's unedited manuscript in full. Published by Spiegel & Grau, an imprint of Penguin Random House.
Visit this special page for our The Beautiful Ones review.
Synopses
The Beautiful Ones is the story of how Prince became Prince – a first-person account of a kid absorbing the world around him and then creating a persona, an artistic vision, and a life, before the hits and fame that would come to define him. The book is told in four parts. The first is composed of the memoir he was writing before his tragic death, pages that brings us into Prince's childhood world through his own lyrical prose. The second part takes us into Prince's early years as a musician, before his first album released, through a scrapbook of Prince's writing and photos. The third section shows us Prince's evolution through candid images that take us up to the cusp of his greatest achievement, which we see in the book's fourth section: his original handwritten treatment for Purple Rain – the final stage in Prince's self-creation, as he retells the autobiography we've seen in the first three parts as a heroic journey.
Data
Official

Yes

Author

Prince & Dan Piepenbring

Publisher

Spiegel & Grau

Released

29 October 2019

Format

Hardback

ISBN

9780399589652
© Goldies Parade, 1998 – 2021 | Privacy