Home » New Power Generation
Warner's Dispute: Prince biography
By Goldies Parade
Part 3 – Eye Hate U
(1991-93)
Prince had been referring to his backing band as The New Power Generation (NPG) since 1988's Lovesexy, but it was not until 1991 after two more albums that any writing collaboration with it was acknowledged in his albums cover notes. Prince co-crediting the New Power Generation was the result of his first proper revamping of his backing band since the disbanding of the Revolution in 1986, whose members were reorganised to different roles and instruments during succeeding tours or dropped completely from its line-up. With the creation of the NPG, guitarist Levi Seacer Jr. the sole survivor of the band's Graffiti Bridge incarnation, was joined by a fresh ensemble comprising Michael Bland (on drums), Sonny Thompson (bass), Tommy Barbarella (keyboards – finally replacing Revolution's Dr. Fink, Prince's longest serving band member) and Rosie Gaines (keyboards and supporting vocals). The band's objective to maintain Prince's commercial appeal by tapping into the new and rapidly growing influence of hip hop was further underlined with the recruitment of Tony Mosley as its resident rapper and Kirk ('Kirky J') Johnson as DJ. Prince was delighted with the new line-up. The NPG's debut project to which they were co-credited with Prince was Diamonds And Pearls. The album performed well, and produced Prince's seventh and eighth number one chart singles – its title track and Cream. Although praised for its standard of music the album faced criticism in the press that Prince had followed rather than set the latest music trend. The album did achieve its commercial ambitions: selling 5 million units worldwide.
The previous summer had found Prince marred in controversy with his own fan base, having been booked to play a one-off concert in Britain at Blenheim Palace on 31 August 1991, for which he had received a £300k advance. The advance they paid and the rising cost to stage the show forced its cash-strapped promoters to cancel the event and the nearly 50k tickets already sold could not be refunded. Legal action was threatened, and eventually in December Paisley Park's director was despatched to London to announce that fans could exchange their tickets for priority seats at the forthcoming Diamonds And Pearls Tour. The ensuing debacle over the tickets led it to become the most famous concert Prince that had never played, and soured his relationship with British fans for years to follow. However, when the Diamonds And Pearls world tour began in the spring of 1992 it was a considerable success and smashed venue records throughout, and most tellingly in its run of eight capacity-filled back-to-back shows at London's 18,000 seat Earls Court arena. A total of 850,000 fans attended the tour across its 50 dates, but again Prince had shied away from the US – touring where album sales were strongest: simply Europe, Japan and Australia. Band member Rosie Gaines would leave the NPG at the tour's conclusion and whilst the group since passed through many incarnations the NPG remained the official moniker of Prince's backing group right up to 2014.
Prince used the early dates of the tour also to showcase his current love interest and protégé Carmen Electra, plus lent his creative talents to another rising star's career: writing for Martika's second album two hit records (Love… Thy Will Be Done and Martika's Kitchen plus the track Spirit), and whom was widely viewed at the time as the next Madonna. Prince's success with Diamonds And Pearls spurred Warner Brothers to double their efforts to extend Prince's contract which was about to expire, and in August 1992 they signed a six album extension worth $100m – the largest recording contract up to that time for a solo artist. As part of the deal, Warner had also took the highly unusual step to gift the musician a seat on their board and with it an entire suite of offices at their Century City headquarters. This contract would become a millstone around Prince's neck and would shape and define the remainder of his career.
From the outset Prince had lamented the moment which he signed the $100m contract, recalling that his hand shook as he signed his name to the deal, because of the extent of control and ownership of his music it transferred to Warner Brothers. To Prince the agreement proved to be a poisoned chalice from the outset, but he needed money to continue recording, as well as maintain his $10 million Paisley Park studio complex which he kept on 24-hour standby should he wish to record at any time day or night. The contract would indeed guarantee Prince a substantial $10 million advance for each album as long that the preceding album shipped at least 5 million units: the amount Warner needed to recoup their advance, taking into account Prince's royalty fee of 20%. Despite Prince's commercial success as an established artist, 1991's Diamonds And Pearls which although had met chart success, achieved just two million sales in the US. Collectively Prince's historical output of his thirteen previous albums, those released between 1978 and the contract of 1992, total sales amounted to $300 million in revenue. Releases post 1993, therefore, needed to net Warner the desired $100 million in over just six albums in order to profit from their investment. This was a wholly impractical expectation for Prince to better the success he achieved in the 80s. Particularly at this time when the landscape of mainstream music was changing and the emergence of younger artists offering a new voice and a fresh sound in an already crowded music industry, would be almost an insurmountable challenge even for an artist of Prince's calibre and broad appeal. Prince would therefore have to battle to extract future advances from Warner, and thus laid roots to the decline of their relationship to a bitter and unavoidable conclusion.
To make matters worse, a clause in the contract granted Warner ownership of all master recordings of Prince's music, and not for only for the life of the new contract but all his previous recordings dating back to 1978. Prince was in no position to argue, his spending had spiralled beyond control on lavish tours, vast entourages, as well as faced with the upkeep of Paisley Park Studios. He was in urgent wont for cash. His fury over contract's unfair terms, as he saw them, spurred Prince on a public and damaging crusade to claw back the ownership of his past recordings. With Prince expecting to increase his musical output, Warner on the other hand insisted that he actually reduce it to maximise the sales of future releases and stop his albums competing with one another. The contract would also limit the number of concerts Prince was able to perform. As a result Prince grew vehemently disillusioned with Warner, since he wrote as well as hoped to release albums at such a rate he envisaged two per year to keep pace with his prolific output. But Warner felt this would awash the market and dilute sales, so the two struck a compromise. Despite Warner wanting him to release one album every two years, Prince settled at one release per year.
The tipping point in the dispute came with Prince fourteenth album, which to Warner's despair was titled a confusing and unpronounceable amalgamation of the male/female 'love' symbols: Prince love symbol. And, despite releasing its opening song My Name Is Prince also as two stand-alone singles, the dispute over his contract hit breaking point on 27 April 1993. Having released only the first of the six albums that he was contractually required to deliver, Prince stunned Warner by declaring his intention to retire from recording. He would instead furnish the remaining albums from his vault, which by that time amassed a very ample 500 unreleased songs. Then on his birthday on 7 June that year, despite the Love Symbol Album becoming a comparative, although not massive, success (shipping only half the units in the US than its preceding album had) and achieving three top-ten singles, at the close of the supporting tour Prince declared his former self 'dead' and changed his name to the same unpronounceable moniker of the album: Prince love symbol. To Prince's mind, his birth name was more a brand of Warner Brothers than his Christian name, and because the label owned all the music associated with 'Prince', he thought changing his name to an unpronounceable glyph would somehow void or at least highlight his protest over the contract. With no name to call him by the move mystified the press, the recording industry, and alienated his fans. Prince love symbol (typographically known as The Artist Formally Known as Prince) toured the album across the US in a leg of the tour named Act I Tour; Prince's first tour in his home country since Lovesexy '88. However, considering his much mocked name change, Prince's personal reputation and commercial appeal to European audiences showed no sign of slowing down. Europe had overtaken the US as the new stronghold of his fan base: highlighted by the selling out of 72,000 seats at Wembley Stadium in less than an hour European Act II Tour in the summer of 1993, to winning a string of BRITAwards in the UK for Best International Solo Artist in 1992, '93, '95 and '96. The backdrop of growing public adulation masked the ever simmering hostility between Warner Brothers and their star artist.
In the attempt to recoup the considerable advance advances they had given Prince to produce The Love Symbol Album, in 1993 Warner released what became Prince's first greatest hits compilation The Hits / The B-Sides. But their doing so was directly against Prince's wishes, having always viewed greatest hits releases to mark the death of an artist either professionally or literally, Prince was opposed to the release of his own since he viewed his career was on the rise, not decline. In response he charged the label a veritable fortune to shoot the photos for the set's covers. Planning to release it as a five-disk set, it was quickly watered down to three, and although the release contained two new songs (Pope and Peach) Prince would no more write material for Warner Brothers. In place of new material, Warner turned to their unreleased catalogue – dusting down the 1987 master tapes of The Black Album and released it in 1994. This outraged Prince, whom was doggedly opposed to ever allow this project see light of day. Because he had enough material stockpiled in his fabled vault and thereby not need to record new music for the contract's duration, his 1994 album Come comprised tracks gleaned entirely from shelved projects. Crediting the work to 'Prince, 1958-1993' Come became his lowest selling album to date, selling only 500,000 copies. Faced with Prince's resulting disappearance from radio airplay and consequently the charts, and the potential collapse of Prince's commercial appeal entirely and with it the likelihood of ever recouping their cash advances, in 1995 Warner issued two VHS releases in the same day: recordings from 1993 of the cancelled The Undertaker album and footage of the aftershow performance of the final night of the Act II Tour: The Sacrifice of Victor. Prince felt so constrained by the contract, his public appeal was further worsened by pencilling of the word 'Slave' on his right cheek in his music videos and at every public appearance, in protest at both the contract and Warner. Refusing all interviews, the media likewise grew indifferent to Prince, who in the wake of the name change to The Artist Formally Known As Prince was further vexed at why an artist whom signed a $100m contract could justify his audacity to call himself a slave.
Part 4 – 'Slave'
(1993-96)
To extract himself from Warner's grip, Prince founded his own record label NPG Records in 1993. Since the terms in the now heavily disputed contract gave Warner ultimate ownership of Paisley Park Records, Prince would from now on release his 'new' music – starting with GoldNigga which he credited to and released under the name of the New Power Generation – through his new and independent outfit. For the albums remaining in his contracted output under Warner Brothers, Prince hoped to release his next album The Gold Experience on his thirty-seventh birthday – 7 June 1994 – but Warner quickly put a stop to that wish. Having just that previous November released The Black Album, and prior to that August's Come, prospect of a third album within twelve months and a further dilution in sales, was to Warner's mind a step beyond the pale. At this point their relationship with Prince plunged to its lowest ebb. Prince had grown increasingly despondent and desperate for money, and was so incandescent at their withholding The Gold Experience he decided to continue regardless its promotional tour the following March. Under the banner The Ultimate Live Experience the tour was used as a platform for his dispute: the tour was so named because the album it was intended to support was itself unavailable and under the ever decreasing prospect to purchase. It was during this tour that Prince took to the offensive and on 5 March 1995, gave his first interview in British television, for BBC2's The Sunday Show to air his frustration at Warner. The interview was also unique in that Prince himself was masked and would not speak directly to the presenter, whom put her questions to his dancer (and future wife) Mayte Garcia to whom Prince would whisper his reply to relay in return.
Warner did eventually release The Gold Experience on 25 September 1995, but throughout the tour Prince only performed his new and as yet unreleased (non-Warner) songs, and in result its venues did not sell out. Furthermore the tour would only visit Europe, as he refused to return to the US again until 'free' from the binds of his contract. On the condition that he pay for the release out of his own pocket, Warner Brothers earlier allowed Prince to release the intended lead song from The Gold Experience, The Most Beautiful Girl In The World as a maxi-single via NPG Records in February 1994, stumping up $2 million of his own money to do so. The song was written for his Puerto Rican choreographer Mayte Jannell Garcia, whom he earlier wrote an album for: the couple married on Valentine's Day, 1996. The song became a surprise international hit and Prince's first (and only) single to reach number one in the UK. This release was greatly significant, in that Prince had achieved such veritable success without the assistance of Warner Brothers. He celebrated the epoch with yet another maxi-single The Beautiful Experience, likewise released under his NPG Records label. The single would predate by some considerable nineteen months the eventual release of the album it was to support: Warner's The Gold Experience. Prince had released the single so early it predated even the August release of his previous album Come. To Warner's eyes, their star was spiralling beyond control, but to Prince the song's success and its distribution through his independent record label was above all the realisation that he need not rely upon the help and promotion from a major label after all. Now unwilling to record the new material which he would otherwise give to Warner Brothers, Prince turned to alternative outlets to generate him much needed revenue streams: opening the NPG Store in London's trendy Camden Lock on 30 April 1994, and launching the video game Interactive on 7 June – the same day he originally hoped would see the release of The Gold Experience.
Take my name, I don't need it.
In the UK, Prince's popularity went from strength to strength, and he visited the country increasingly often on tour, as his shop in Camden was likewise rousing much curiosity. But his feud with Warner Brothers was tarnishing his public image in tabloids everywhere. When collecting his BRITAward on 21 February 1995, Prince used his acceptance speech to attack his label, whose executives thronged the tables by the stage: "Prince, best? Gold Experience, better. On record, slave." To Prince, his $100 contract was nothing other than bound servitude. Indeed the price at which Warner retailed Prince's music had been another long-standing concern of his. The upkeep of Paisley Park was hemorrhaging money and Prince's past spending on staff, sumptuous parties and his two Glam Slam nightclubs in Minneapolis and Miami, had for years forced him to press for ever-increasing advances from Warner. But the label had grown weary of these demands and bridging Prince's personal expenditure, the open dispute over the contract entrenched the two parties deeper than ever. Prince was consumed in his quest to reclaim ownership of his past music and began a one-man crusade to improve the publishing rights of artists, telling them to abandon their labels because the record companies were more bent on the business of music (Prince protesting in song: "twelve CD's for a $1. Makes me wanna holla.") than nurturing artistic talent. "Money and art don't mix" became his mantra.
Prince's final release for Warner Brothers – Chaos And Disorder – was also his final opportunity to launch a spiteful parting swipe at his soon-to-be former record label. The album, released in 1996, featured tracks full of brooding and consumed by his frustration with Warner: Dig U Better Dead, I Rock Therefore I am, Chaos And Disorder and the closing song on the album, as well as the sign-off to his Warner career: Had U. Prince had recorded the material over a mere ten days and allowed its release only to complete his contractual output. Neither party was keen to promote it and the album performed poorly in result. Warner too, weary of advancing Prince more money, attempted to recoup their losses by closing down Paisley Park Records on 1 February 1994. In pre-emption of this action, Prince swiftly released through NPG Records the leftovers of Paisley's unfinished project showcasing the songs written by him and recorded by the other artists he had signed to that label. The album released was 1-800 NEW FUNK whose name was to become the order line phone number to Prince's internet retail store 1800newfunk.com he launched in 1997. Undeterred, in 1995 he used NPG Records to release more of his 'new' music, Exodus which he again credited to The New Power Generation. For this release Prince had once more changed his name, due to the pending threat of legal action from Warner – this time adopting the moniker Tora Tora, the war cry 'attack, attack' employed in the Japanese attack of Pearl Harbour. The premise of Exodus was to proclaim that the flood of artists leaving their recording contracts had begun: in it referring to Warner in all but name as 'that record company'. The three albums struggled commercially, as the public's disillusionment with Prince deepened: Glam Slam closed down in October 1995, followed by his Camden retail store in October 1996. Prince made promotional appearances for Exodus with his face shrouded by a scarf, as Warner threatened legal action for breach of contract. But by July 1996 Prince finally fulfilled all contractual obligations for Warner, by providing them the required output of six albums – although the contract itself would not fully expire until 31 December 1999. Making only one concession that March, he provided Warner material for the soundtrack for their movie Girl 6, for which Prince also gave the rare concession they could market it under the name 'Prince'. Girl 6 contained just one newly written song, however: the title track, which Prince had provided because his close friend Spike Lee directed the film.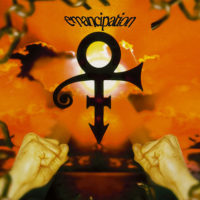 Having now met his obligations to Warner Brothers and able to release music at the rate he desired, Prince quickly realised the material he distributed through NPG Records was only penetrating his core fan base. For this next project, and what would become his third release of 1996, Prince teamed up with EMI Records, a major label, to put out a triple album of 36 new songs. Named Emancipation in celebration of his freedom from the past constraint on his output, the 180 minute collection contained a veritable gold mine of the 'new' music he recorded but consequently denied Warner while waiting to fulfill their contract with pre-existing material. Surprising many by its perfect blend of scale and quality, Emancipation attract critical acclaim and charted at number 11 on Billboard – an impressive feat for a triple CD, and which also became the fourth biggest selling triple album in US history. Despite his not-unsurprising distrust of major labels, Prince's relationship with EMI proved cordial and the antitheses of his experience with Warner, but during Emancipation's promotion EMI had fallen into bankruptcy, and Prince's future ambitions with the label had to be realised elsewhere.
Prince biography continues »
Delirious: The Warner Era (1958 – 1990) & NPG Records (1997 – 2016)
© Goldies Parade, 1998 – 2020 | Privacy